Camping is an excellent way to bond with family and friends as you enjoy the scenic beauty of nature. It's a good way to relax and clear your mind. There is a certain sense of calmness that comes with spending time in nature.
Choosing a suitable camping site comes down to several factors. Consider whether the camping site is located near a water source. The camping area should also be set aside on flat land. When looking for flat ground to set up your camp, avoid the hill bottoms.
---
You might also wanna check out:
– Best Camping Sites in Arkansas
– Best Camping in Texas
---
You should also avoid game trails that have animal and human traffic. The state of Oklahoma provides suitable camping grounds due to its numerous parks.
When it comes to choosing a suitable camping site in Oklahoma, then you are spoilt for choice.
Camping in Oklahoma FAQs
Here are the 17 best campgrounds in Oklahoma:
Marval Family Camping Resort
Located on the banks of the Lower Illinois River, Marval Family Camping Resort is a 105-acre oasis where you and your family can enjoy the great outdoors of Oklahoma.
The park has 115 RV sites with 30- and 50-amp electric hookups, as well as water, sewer and cable hookups.
There are a total of 13 primitive tent sites overlooking the park or near the trout pond.
A swimming pool, clubhouse, miniature golf course, game room, volleyball and basketball courts are just some of the activities available to you and your family.
On summer weekends, guests can engage in fishing tournaments, water fights and outdoor movies.
The wading pool will be a hit with the kids. Frisbee golf, low-rider tricycles and a soccer field are also popular at the resort. You'll find fire pits scattered throughout the park.
Checotah / Lake Eufaula West KOA Holiday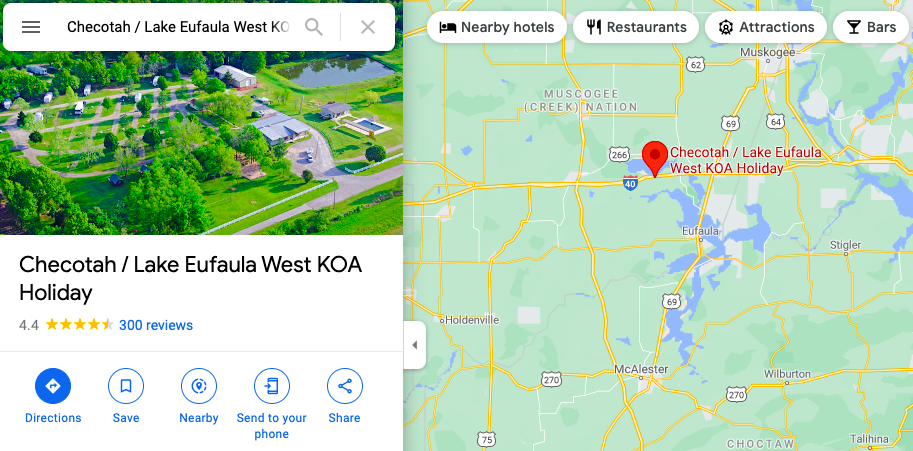 Located by the beautiful Lake Eufaula, Oklahoma's largest reservoir, this KOA is a quiet, family-friendly campground surrounded by a pleasant country setting. But don't take me wrong, it's easily accessible from I-40, which makes it a perfect stop on your way to Oklahoma City.
Rent a canoe or a kayak on-site and reach the lake through the nature trails. The area is also great for birdwatching and fishing. Whereas kids will appreciate the barnyard mini-zoo featuring chickens, ducks, geese, turkeys, a cow, and two donkeys.
The sites are spacious and can accommodate even big rigs. You can also pitch a tent or a cabin. For family reunions and large group gatherings, there are three air-conditioned meeting rooms with a kitchen.
Should you ever get bored at the campground, area attractions include golf courses, casinos, and Native American and Civil War History museums.
Mingo RV Park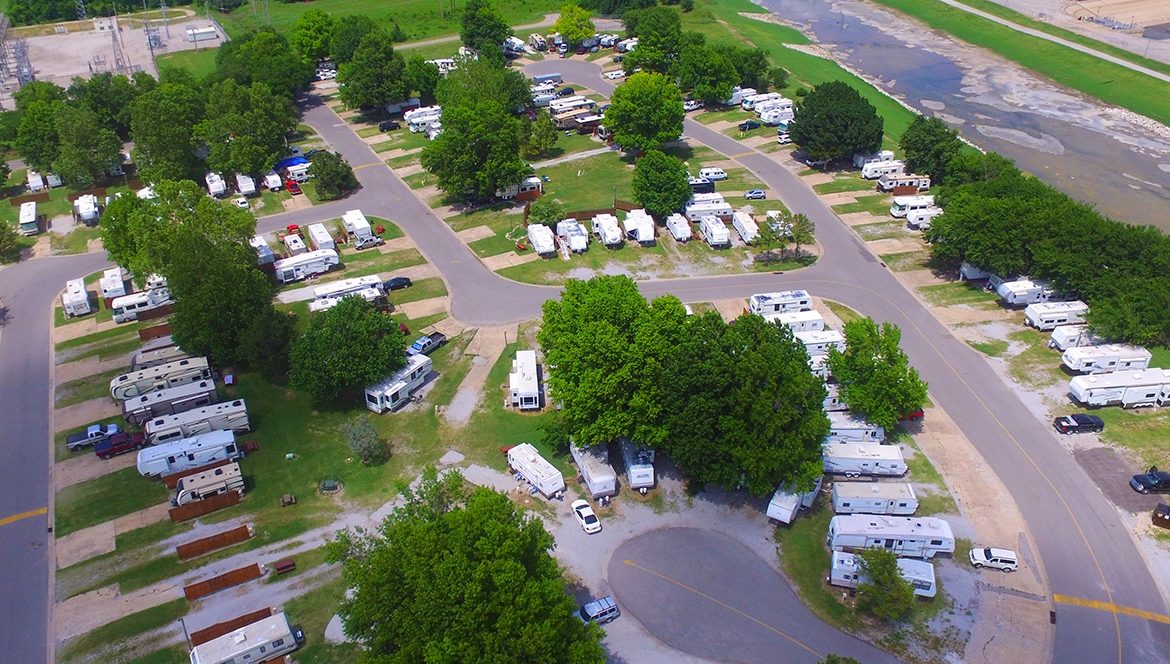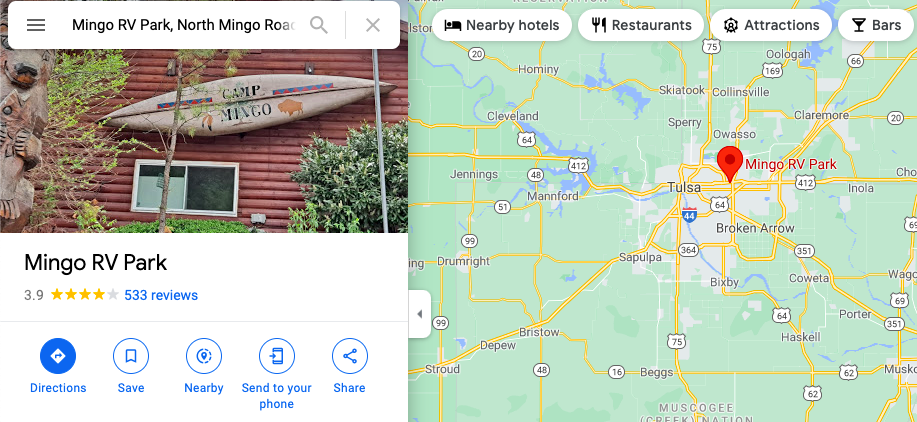 Set on the outskirts of the vibrant Tulsa, Mingo RV Park is a convenient home base for discovering the area.
Take the kids to Oklahoma Aquarium and Philbrook Museum, or visit Cain's Ballroom or Tulsa Zoo. There's definitely loads to see around Mingo RV Park, but the campground itself has some great amenities, too.
There are spacious full hook-up sites with free Wi-Fi and cable TV. Then, there is an activity room with vending machines and a pool table. The campground also has a playground, horseshoe pits, as well as a basketball court. And for your four-legged friends, there is a dog park.
Mingo RV Park is simply a great choice for those who want to stay close to the city but enjoy RV camping. All families, couples, as well as solo travelers, are welcome.
Water's Edge RV and Cabin Resort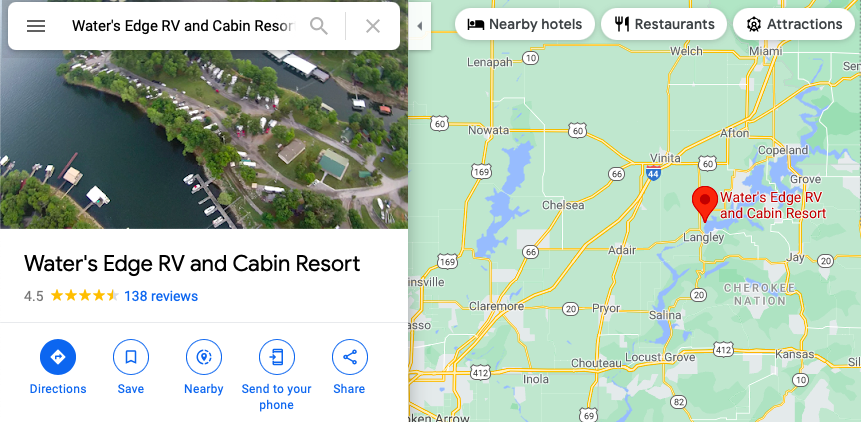 Nestled on the shores of Grand Lake O'the Cherokees in the foothills of the Ozark Mountains, this RV resort is a great spot to hang out with your friends and family while enjoying all sorts of water-based activities.
Try fishing for crappie, boating, or jump off the swimming pier to the crystal clear water. There are also some walking and biking trails in the area.
The sites are shaded and offer a private deck with a fire pit. Moreover, all of them are big rig friendly and full hook-up with 20/30/50 amp service. There are 11 cabins available in the resort as well.
The resort also features some wide-open spaces and a large clubhouse for you to enjoy. You can't go wrong with this campground if you're looking for a serene stay by a lake.
Acorn Campground at Beaver's Bend State Park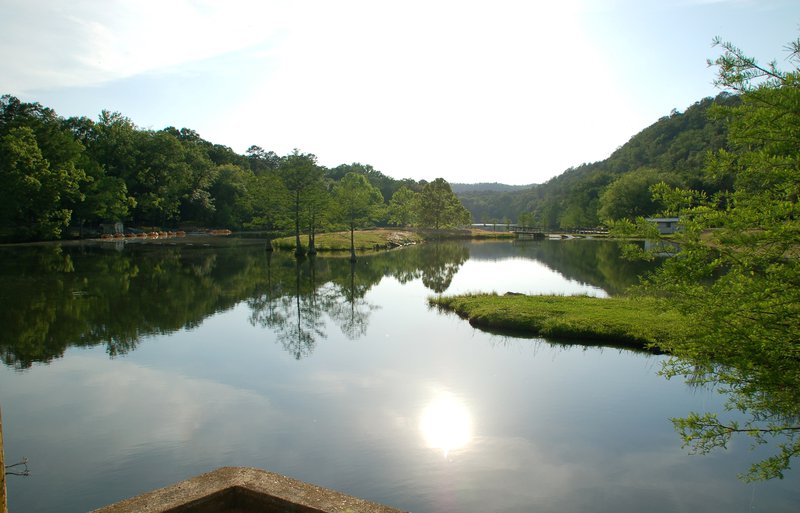 Located in the hilly region of southeast Oklahoma along the shores of Broken Bow Lake and the Mountain Fork River, this campground is a true outdoor lover's paradise.
Apart from water-based activities, such as fishing, boating, water skiing, or canoeing, visitors can enjoy hiking, biking, horseback riding, and plenty of more. Follow the Mountain Fork River for some spectacular views, or engage in golf at the on-site Cedar Creek Golf Course. Broken Bow Lake has also got several caves, great for scuba diving.
There are plenty of camping options back at the campground. From tent sites, RV sites to cabins or glamping. One will certainly find his peace o heaven at Acorn Campground at Beaver's Bend State Park.
Twin Fountains RV Park – Best for Family Time
This family-run park provides suitable campgrounds for RV camping. Twins Foundation RV Park is a sweet spot, especially for families looking for the ultimate RV experience.
This park located in Oklahoma City provides multiple amenities for a family fun time.
The Twin Fountains RV Park features a bar and grill where guests can enjoy various foods and drinks.
Guests can also visit local attractions such as The Science Museum and Oklahoma City Zoo using free limo rides provided by the park.
Twin Fountains RV Park is equipped with a swimming pool and splash pad where families can swim in the water or bask in the Oklahoma sun. The park comes with a miniature golf course where guests can play at an affordable fee. Adults with kids are also considered with a play area available for kids to interact and play.
The park is fitted with a clubhouse that comes with a convenience store and a gift shop. Fun activities in Twin Fountains RV Park include fishing in the ponds, swimming, and RV camping.
Guests can enjoy the clubbing and nightlife at the park. The park also provides paved roads for family nature walks and outdoor trails.
Yogi Bear's Jellystone Park – Best for Kids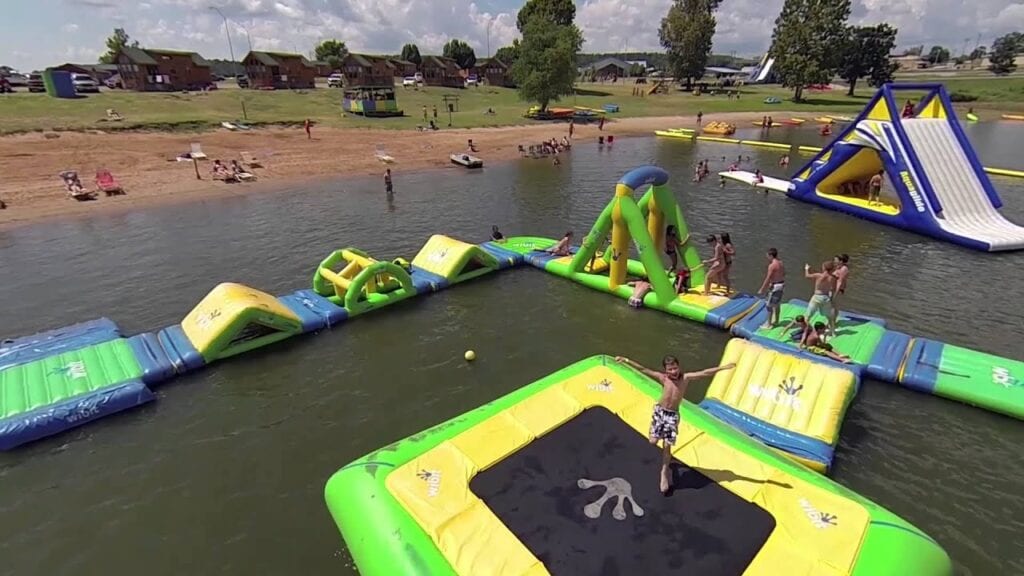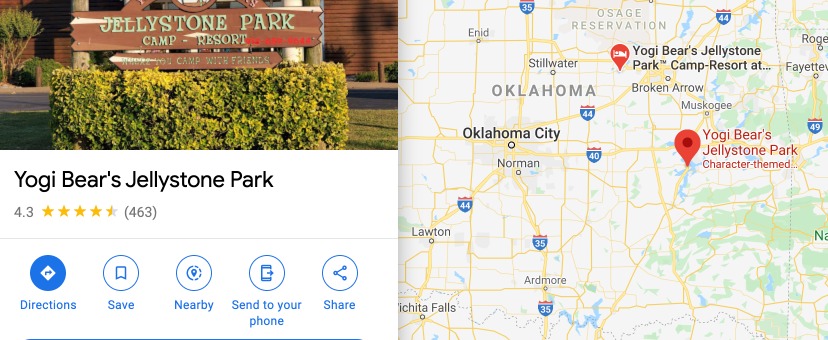 Kids will love this family-friendly Yogi Bear themed lodge and campground on Lake Eufaula. Both RV sites and cabins are available for rent. The cabins come fully equipped with flat-screen TVs and kitchenettes.
There are also picnic tables, fire pits and charcoal grills for families to enjoy, and many cabins have a great view of the lake.
Children will love the water park, pool and playground. They can play on the waterslides, get their picture taken at the lodge with Yogi and Boo Boo or get a firetruck ride.
Both adults and children will enjoy the mini-golf course, volleyball and shuffle board courts and the outdoor theater. Paddleboards, pontoon boats and canoes can be rented, and the fishing pier and 2 beaches round out the fun. A snack bar and on-site restaurant make meals convenient.
The park provides free Wi-fi access as well as having ice and firewood available for purchase.
Red Rock Canyon Adventure Park
This work of art by nature is located in Caddo County, Oklahoma, and was used as a winter campsite for Indians. The canyon makes the park's main attraction as well as other activities available in the park.
The Red Rock Canyon Adventure Park provides a breathtaking view of the canyon and has suitable sites for RV camping. The area has sweet spots where you can set up your tent with your family or friends.
This park is equipped with a swimming pool, a playground for the kids, camping sites in the canyon, and picnic grounds. The park also provides group picnic grounds for team building activities and families.
One can enjoy a good time at this park through the exhilarating experience of rappelling down the canyon. Nature walks and hiking the rocky trails are some of the ways one can spend time in the park. Fishing and watching the fall foliage are also some activities that one would undertake at the park.
Nature Falls State Park
This hidden gem is located in Delaware County, Oklahoma, and lies near the Arkansas-Oklahoma border. The park is renowned for its magnificent 77-foot waterfall with an observation deck at the foot of the falls. The waterfall creates a serene atmosphere to enjoy the scenic view and is significant for the flourishing flora and fauna in the park.
Nature Falls State Park features RV and tent sites equipped with comfort stations. There are grills and picnic grounds for those looking for an outdoor experience. Besides, the park offers overnight experiences in traditional round tents known as yurts.
The yurts are well-equipped and come in varying sizes that can accommodate from two to eight people. Swimming is prohibited in the park to preserve the diverse plant life.
Contrarily, activities such as fishing, nature trails, hiking, and biking are present in the park.
Rockwell RV Park and Campground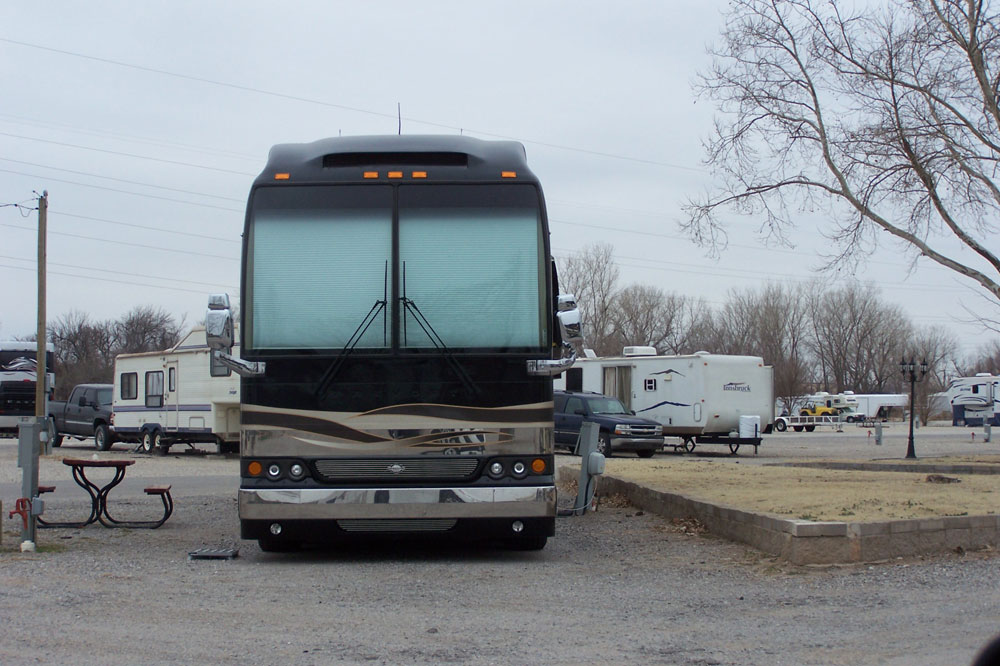 Located just minutes from Oklahoma City, the Rockwell RV Park and Campground have all the amenities you could want.
All RV sites have electric hookups, cable, water, and sewer. There are 170 such full-service sites. There are also a few cabins for rent as well as an area for setting up tents.
Whether you choose to stay in your RV, rent a cabin or pitch a tent, you will have access to laundry facilities, a heated indoor pool, and a 10-person hot tub. There are two bathhouses with private showers and clean restrooms. Every guest gets free coffee and muffins as well as a newspaper.
Meeting rooms are available as well as a workout area and a game room. Children will enjoy seeing the bison in their pen, and pets will enjoy the long walking area provided for them. A storm cellar on-site holds up to 200 people.
Nearby attractions include the National Cowboy Hall of Fame and the State Fairgrounds.
Sequoyah State Park
This scenic beauty is located in Cherokee County, Oklahoma, along the shores of Fort Gibson Lake. The park is a haven for water lovers, given that it is surrounded by acres of surface water.
The largest lodge in the park, The Sequoyah Lodge, comes with more than 100 rooms and suites, volleyball court, bunkhouse, cottages, tennis courts, swimming pool, and a restaurant. The park also houses rehabilitated animals and plants in the park's nature center.
The nature center, Three Forks Nature Center, houses various animals and birds with a daily feeding program. There are miles of hiking trails in the park that are open to the public. This recreation space provides suitable areas for RV camping and other camping loops.
Leisure opportunities available include but are not limited to hiking, fishing, golfing, swimming, and horse riding.
Boiling Springs State Park
This park is named after a natural boiling spring and is one of the original state parks built by the Civilian Conservation Corps.
The park is located in Woodward, Oklahoma, and covers acres of land, including a small lake. The park has a forest with diverse types of vegetation and trees.
Boiling Springs State Park provides campgrounds for RV and tent camping. The park also offers suitable sites for group camping, picnicking, and team building. There are available hiking trails in the park where visitors can go for nature walks and enjoy the lake's view.
The state park also includes spacious cabins located near the lake fitted with bed sofas, air conditioners, twin-sized beds, and a kitchenette. The park allows pets into the cabins at a small cost. Visitors can enjoy the view of the "boiling" springs from an observation deck.
Fun activities available at Boiling Springs State Park include hiking, nature watching, wildlife observation, camping, and fishing. Golf enthusiasts can also enjoy time at the park's 18-hole golf course equipped with sand traps, water hazards, and dogleg fairways.
Chickasaw National Recreation Area – Best for Hiking
This national recreation area includes the former Platt National Park and Arbuckle Recreation District. The recreation area is located at the foot of The Arbuckle Mountains in Murray County.
Water is the main attraction in the recreation area, with most parts of the recreation area being covered by the Lake of the Arbuckles.
Trees make up the woodland that also covers parts of the recreation area. The Travertine Creek and Rock Creek are scenic sections of the recreation area, with waters supplied by various springs in the park.
The recreation area features the Travertine Nature Center that houses various forms of wildlife and plants. The Platt Historic District provides an array of wildlife, including the bison that is a common sight in the park. The numerous springs provide sweet spots for visitors to enjoy the cold waters of the recreation area.
The recreation area provides various activities for the guests. Visitors in the recreation area can take part in fishing in the lake, swimming in the springs and creeks, boating and camping. Visitors can also participate in game hunting permitted in the park.
Turner Falls Park
Turner Falls Park is home to Oklahoma's tallest waterfalls located on the Honey Creek in the Arbuckle Mountains. Turner Falls Park is a family-friendly destination located in Davis, Oklahoma.
The falls are the park's main attraction and cascade into two natural swimming pools. Turner Falls Park features a walk-in castle and natural caves that makeup part of the park's geology. The park provides private executive cabins and screened shelters for the visitors.
Primitive camping is offered in the park as well as RV hookups for guests looking for outdoor experiences. Visitors in the park can take part in trout-fishing, swimming in the natural pools, and hiking in the nature trails.
Exploring natural caves is also a fun experience for guests in the park. Visitors can take a tour of the Collings Castle located in the park.
Lake Murray State Park
Lake Murray State Park is the largest state park in Oklahoma. The state park covers more than 12000 acres of land, with almost half of it covered by waters from Lake Murray.
The state park, located in Carter County, Oklahoma, is covered with dense vegetation and a forest that is home to various wildlife.
The state park features a 32 room lodge and cabins for rent. There are privately owned floating cabins available at the park at a small fee. Lake Murray State Park also includes an airport and an RC flying field.
There are three campgrounds with cabins and a golf course. RV campsites are available at the park as well that guests can reserve online. The enclosure comes with an ATV area for motorcycle enthusiasts. The Lake Murray Lodge features spacious rooms, a waterfront restaurant near the lake, ballrooms and conference rooms.
Visitors at the park can participate in fishing and boating at Lake Murray. Relaxing at the sandy beaches of Lake Murray is also an option for visitors. Other outdoor fun activities at the park include ATV riding, hiking in the nature trails, golfing, horseback riding and picnics.
Beavers Bend State Park
Image by: stateparks.com
This Oklahoma state park is the most popular in the region and located in McCurtain County. The scenic beauty of this park is located in the mountainous southeastern area of Oklahoma. The park is located on the shores of Broken Bow Lake and Mountain Fork River.
The "bend" in the park's name comes from the sharp meander made by the Mountain Fork River. The state park has a lodge, The Lakeview Lodge, which can accommodate up to 40 people and overlooks the Broken Bow Lake.
Alternative lodging options available are the 47 cabins in the park with some cabins located next to the river. The state park also provides RV and tent campsites where guests can set up their camps.
The camping opportunities provided at the camp include hiking, nature and biking trails, tennis and volleyball, trout fishing, and canoeing. The state park also comes with a golf park and a miniature golf park.
Hawthorn Bluff Campground and Fishing Area
If you'd like to have a unique outdoor wedding, you might want to reserve campsites at the Hawthorn Bluff Campground.
Located on Oologah Lake in northeastern Oklahoma, this site includes an amphitheater and gazebo which will accommodate up to 100 guests.
It also provides amenities that cater to campers who'd rather not rough it too much, as there are electric hookups available at many of the campsites as well as flush toilets and public showers. Children will enjoy the playground and the interpretive nature trail.
Sportsmen will enjoy the opportunities for sailing, fishing and hunting. Old growth forests along the banks of the Verdigris River provide habitat for deer, turkey, quail and ducks, as well as many other species, while the lake includes many sport species such as black bass, crappie and walleye. Sailors will appreciate the prevailing winds on the lake.